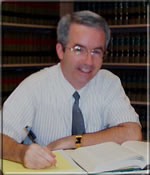 JAMES P. SHANNON is a 1985 Cum Laude graduate of Suffolk University in Boston, Massachusetts, where he earned a Bachelor of Science degree in Government and History.
Subsequent to his graduation, Jim served in the United States Air Force, serving as an intelligence officer and rising to the rank of Captain.
In September 1990 Jim separated from the Air Force to enroll in the University of Notre Dame Law School, from which he subsequently was awarded his Juris Doctor degree in 1993.
Since being admitted to practice law, Attorney Shannon has engaged in the general practice of law, with particular emphasis in the areas of real estate transactions and development, land use planning, civil litigation and personal injury. Attorney Shannon focuses his practice in the area of real estate and construction, and serves as counsel for numerous real estate developers and contractors in both the Strafford and Carroll county areas.
Prior to opening his office as a sole practitioner, Attorney Shannon was associated with several area law firms. He is licensed to practice in both New Hampshire and Maine, as well as being admitted to practice before the federal courts in New Hampshire.
Mr. Shannon takes great pride in his work and looks forward to discussing your legal matters with you.
Jim and his wife, Sue, live in East Rochester, NH, with their four daughters.
Email Attorney Shannon with any of your legal matters at: jim@jimshannonlaw.com
P.O. Box 1018
Rochester, NH 03866-1018
P: 603-330-3121
F: 603-330-3141
Office address: 60 Farmington Rd., Suite 150, Rochester, NH 03867